In State: $145 per credit (regularly $217)
Out of State: $290 per credit (regularly $434)
(additional $25 per credit for online courses; additional course fees may apply)
SESSION 2: JULY 5-AUG. 11
Course Code
Course Name
Course Description
Credits
Location
Day(s)/Time
BUS 1341 01 DL
Entrepreneurship
Students are introduced to the processes for creating a successful business plan. Students will use entrepreneurial discovery processes, assess opportunities for venture creation, explore e-business principles, and develop presentation skills necessary to convince others of the potential success of the business venture.
3
Virtual
BUS 1416 01 DL
Financial Accounting
This course covers the role of accounting in the decision-making process and the application of current generally accepted accounting principles for measuring and communicating financial data about a business enterprise to external parties. Topics include preparation and use of financial statements, analysis and recording of business transactions, the accounting cycle for service and merchandising enterprises, accrued and deferred items, organization and financing of corporations, and other theoretical and practical aspects of financial accounting.
4
Virtual
CPT 1207 01 DL
Computer Applications
Students learn to use productivity software application packages in the Windows operating environment. The applications covered include word processing, spreadsheets, presentation and database software. Prerequisite: Windows Literate
3
Virtual
ECO 1401 01 DL
Macroeconomics
Students study macroeconomics with the main emphasis on solving the problems of economic growth and stability. The course includes the study of such topics as monetary policy, fiscal policy, employment, inflation, international trade, and current economic problems.
3
Virtual
ECO 1402 01 DL
Microeconomics
Students study microeconomics with the main emphasis on the economic problems of allocation, distribution, and efficiency in the American economy. The course includes a study of the market system, supply and demand, the price system, the firm, and comparative economic systems. Emphasis is placed on specific segments of the American economy such as consumers, business, labor and agriculture. Environmental topics will include externalities, cap and trade, public goods and common resources.
3
Virtual
ENG 2005 01 DL
Composition II
This course emphasizes analytical skills in both writing and reading. Students write and revise analytical and argumentative essays and a research paper. Prerequisite: ENG 1001 Composition I (or its campus equivalent) with a C or higher or permission of the instructor.
3
Virtual
ENG 2100 01 DL
Masterpieces of Literature
Selected great works of literature are examined in English through a variety of approaches.This course has other requirements.
3
Virtual
FLA 1445 01 DL
Spanish Language and Culture I
This course provides students with exposure to Spanish culture through the study of language, utilizing popular media and a culture-oriented text. The course covers language structure essential for basic communication in Spanish.
3
Virtual
HIS 1206 01 DL
Western Civilization: Since 1648
This course is an introductory study of the political, economic, social and cultural development of Western Civilization and its institutions. It covers the material, from the Enlightenment to the present. Particular attention is given to the major revolutions, the rise of modern nation states, and the causes and effects of twentieth century conflicts.
3
Virtual
HUM 1200 01 DL
Music Appreciation
This is a general course to develop discriminating understanding and enjoyment of music through the study of its various elements, forms and styles.
3
Virtual
MAT 1004 02 DL
Elementary Statistics
Students learn about probability, frequency distributions, mean and standard deviation, the binomial distribution, the normal distribution, hypothesis testing, samples from a finite population, regression and correlation, confidence intervals, and chi square tests. Prerequisite: DMA 0995 Basic Algebra with a C- or better, or at least one year of NYS high school Regents level mathematics with a 75% or higher on at least one Regents math exam.
3
Virtual
PSY 2510 01 DL
Developmental Psychology
This course explores the scientific inquiry into normal human development, including mental processes and behaviors from conception through the end of life. A life span developmental psychologist's perspective guides this exploration of issues including the physical, cognitive, emotional, behavioral, and social aspects of human development.
3
Virtual
REL 1507 01 DL
Health Sciences Applied to Coaching
This course covers selected principles of biology, anatomy, physiology, kinesiology, psychology, and sociology related to coaching, human growth and development, training and conditioning of athletes.
3
Virtual
REL 1509 01 DL
Theory & Techniques of Coaching
The introductory classroom phase of this course covers the basic concepts common to all sports. A history of inter-school athletics in New York State, objectives, rules, regulations and policies; teaching methods, performance skills; technical information (offense, defense, strategy, etc.); organization and management of practices; special training and conditioning of athletes in the specific sport; care and fitting of equipment; special safety precautions; and officiating methods are included. This course may include an internship in the specific sport under the supervision of a master coach or director of physical education as a substantial portion of the course hours.
3
Virtual
SCI 1050 01 DL
Introduction to Biology I
This course provides an understanding of basic biological processes and principles for non-science majors. Topics covered include: the scientific method, the chemical and cellular basis of life, mitosis and meiosis, Mendelian genetics, DNA structure and function, and evolution. In the lab, students engage in basic laboratory work in which lecture topics are illustrated.
4
Virtual
SCI 2126 01 CL
Human Anatomy & Physiology II
This course is the second part of a two-semester course in the study of the structures of the human body and their functions. Students examine specific and nonspecific defense mechanisms; fluid, electrolyte, and acid-base balance; and human development and inheritance as well as the anatomy and physiology of the following body systems in detail: cardiovascular, lymphatic, respiratory, digestive, urinary, and reproductive systems. In the laboratory portion of this course students examine the anatomy and physiology of the following systems: cardiovascular, lymphatic, respiratory, digestive, urinary, and reproductive systems. Lab activities include dissection of animal specimens, preparation and observation of microscope slides, and the study of diagrams, models, and specimens of the human body and its parts. Prerequisites: SCI 2124 Human Anatomy & Physiology I or permission of the instructor.
4
MC: C112;
MC: B120
TWR 10:00 AM – 12:25 PM;
TWR 1:00 PM-3:00 PM
*Class listings and details may be subject to change.
Schedule your FREE video consultation, call, or personal in-person campus tour TODAY!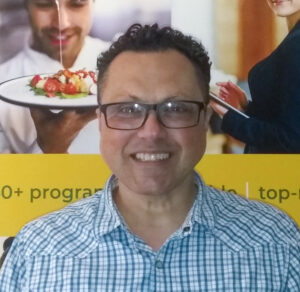 FRANK SINIGAGLIA
Enrollment Specialist
fsinigaglia@sunysullivan.edu
845-434-5750 x4397
Text: 845-617-1377
Consistently ranked among the best community colleges in New York State, SUNY Sullivan has 40+ certification,  2-year degree, and continuing education programs from which to choose - all at a cost you can afford.
SUNY Sullivan also offers laptops to those who need them, personal counseling services, and free tutoring - basically anything you need to be successful!!
What is a typical SUNY Sullivan student? There is no such thing. Our learning community is as diverse as our academic offerings. And it's growing!
Current high school students
Recent graduates
Career changers
Professional development
Whatever the future holds, SUNY Sullivan will be here for you—we've got your back!